About the Artist
Christopher Madden was born in Durham in the north of England in 1952.
After working as a cartoonist for most of his professional life he is now concentrating on his work in other artistic fields.
He splits his time between London and Cornwall.
Exhibitions.
Recent work from the 'Complexity' abstract moving image series:
London Group Open, London (2017)
National Open Art exhibition, London (2016)
Short-listed for the Royal Academy Summer exhibition (2016)
His cartoon work has appeared in exhibitions including:
Cells Gallery, Devonport Guildhall,Plymouth (2018)
Charing Cross Library, Charing Cross Road, London (2018)
Bear Steps Gallery, Shrewsbury (2018)
Westminster Reference Library, Westminster, London (2017)
William Heath Robinson Museum, Pinner, London (2017)
Chris Beetles Gallery, London (2016)
Cartoon Museum, London (2015)
Cobb Gallery, London (2014)
Richard Goodall Gallery, Manchester (2013)
Bear Steps Gallery, Shrewsbury (2013)
Whitworth Art Gallery, Manchester (2008)
Bear Steps Gallery, Shrewsbury (2008)
Cartoon Museum, London (2006)
Association of Illustrators annual exhibition, London (1986 and 1987),
Centerprise, Kingsland High Street, London (1982 and 1985).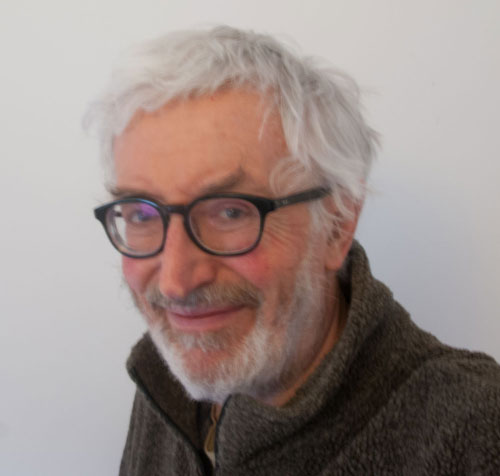 His work is informed by a keen interest in environmental issues, philosophy, science and, of course, art.
His interest in the environment resulted in a book of his cartoons on the subject being published by WWF (the World Wildlife Fund) in 1991.
His work as a cartoonist and illustrator featured regularly in the Guardian newspaper in the 1980s and 1990s and in BBC science magazines in the 2000s. He has been the resident cartoonist in Philosophy Now magazine since 1990.
His work appears in numerous educational and academic publications by publishers such as Oxford University Press, Cambridge University Press, Open University Press, Nature and more. Until recently he was a regular contributor to the journal of the Royal Society of Chemistry.
His work has appeared in magazines and newspapers such as Punch, Private Eye, Prospect, the Spectator, New Statesman and Daily Telegraph.
He contributed a weekly cartoon on gardening to the Irish Sunday Independent newspaper for over twenty years.
His cartoon work can be seen on his cartoon web site
here
.