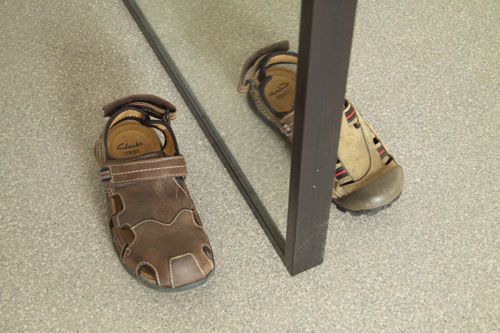 Odd shoes reflected in a mirror: January 2013
Part of a series of works involving the reflection of shoes in a mirror, with the shoes positioned so that the reflection of each shoe in the mirror coincides exactly with the other shoe on the opposite side of the mirror.
In this work the shoes involved are not a pair.
This creates a double dissonance in the viewer. Firstly the viewer has to interpret the fact that the reflected part of the shoe is not part of the other shoe, and secondly the viewer has to interpret the fact that the two shoes are different (with the degree of difference varying depending on the position of the viewer and thus the amount of the shoe that is behind the mirror that is visible).
Like a lot of my works that involve mirrors and reflections this one explores the line between reality and our interpretation of what we perceive.