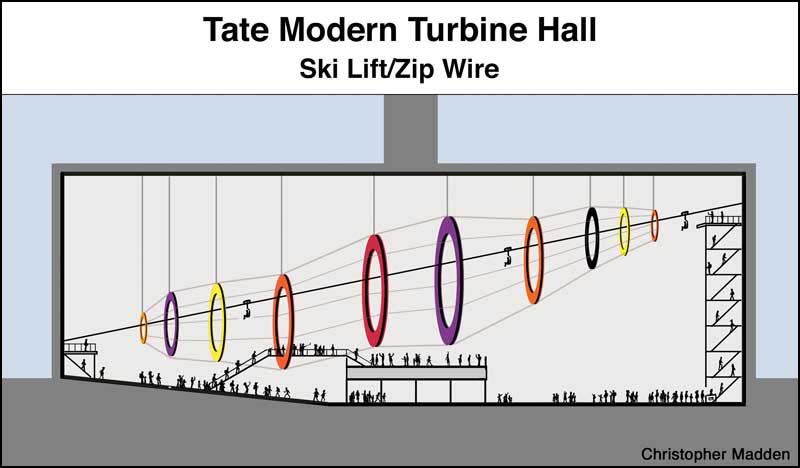 A concept for an installation in the Turbine Hall, Tate Modern, incorporating a zip wire or ski lift that traverses the turbine hall from the top of the east end to the bottom of the west end (thus utilising to the full the cavernous space within the hall). Date: 2017
En route from the top to the bottom the wire passes through the centres of a series of huge coloured rings that are suspended from the roof of the hall. The rings are positioned so that they create striking configurations when viewed from different positions on the floor of the Turbine Hall. Particularly impressive sight-lines would be from the west entrance to the hall and from the platform. The rings are linked together by struts that subtly fuse the rings into a single entity.
Use of the zip wire/ski lift would give the audience the opportunity to 'fly' through the centre of the artwork – an opportunity that to the best of my knowledge isn't possible with any existing art installation.
As with many of the installations in the Turbine Hall, the audience interaction is an integral part of the work itself.
In the diagram I have added the option of a walkway that rises up from the hall's floor in order to give earthbound members of the audience the opportunity to pass through one of the rings.
While at one level the zip wire is a reference to the current culture of organised and managed entertainment, especially adventure-orientated entertainment such as the zip wires in the various tree-top adventure centres that now exist in locations such as public parks and the Eden Project, at another level the wire can be seen as a physical 'communication cable' that allows people to override the normal laws of physics that keep them earthbound and to enter the artwork in an almost supernatural gravity-defying way, the cable being a physical analogue to the electrical communication cables used in digital technology that allow people to enter extraordinary but controlled virtual spaces.
The concept references several works associated with the Turbine Hall: One Two Three Swing! by Superflex, Test Site by Carsten Höller and Marsyas by Anish Kapoor. I think the Weather Project by Olafur Eliasson's in there too.